You may download the Brochure for this year's dinners. It may be used to order tickets by mail.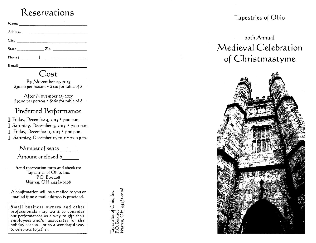 Order Online
Tapestries of Ohio handles online ordering via:

Through November 20th, 2017 - Single Seat $35 - Table of 8 $260
After November 20th, 2017 - Single Seat $40 - Table of 8 $300
NOTE! IF YOU NEED 9 OR MORE SEATS!
If you need 9 or more seats, the reduced Table of 8 price of $32.50 per seat continues to apply. Instead of using the buttons below, you may use the brochure above or you may contact me (Lord Timothy) with how many seats you need and for which evening and I will send you a custom Paypal invoice.
&nbsp
&nbsp
For additional information, please call 330.360.0901
Tapestries of Ohio, Inc. is also available for private bookings.